Timeless, feminine, delicate. Artisanal craftsmanship partnered with sensual luxury women's clothing, shoes and accessories, rooted in Italian history and culture. It has only been twenty years of business as Forte Forte, but its history is steeped in a love of Italian textiles and design, solidifying the fashion house as an essential luxury brand for women of discriminating taste worldwide.
Precious details to create intimacy
What makes Forte Forte clothing stand out? One look and it's obvious. Passion and emotion expressed in beautiful materials left free to express their personality. Colors that are refined. Pure forms that welcome the body without constraints. And light imperfections to emphasize honesty and humanity.
Of course, their designs are known for the use of high-end Italian fabrics, intricate handmade details expressing the wish to create real intimacy with the person wearing the garment. But above all it is a level of passion, care, and emotion that is integral to each and every piece in every season.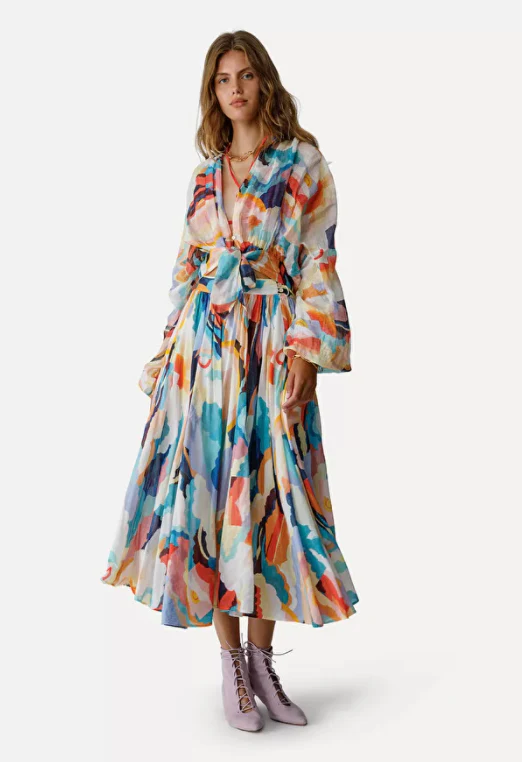 Forte Forte Linen Blouse, Color Sunset
"Strong" roots of the family Forte
For the Forte family, fashion and fabric runs deep in their blood. As post-war Italy struggled with staggering waves of unemployment, true to the legacy of the family name -- forte means "strong" -- their grandmother refused to be defeated and started the roots of what would become Forte Forte as a seamstress. Next generation, the current Forte designers owned a knitwear factory, creating fabrics for iconic brands like Prada and Christian Dior. From their early ages of childhood, Giada and Paolo were introduced and inducted into the world of crafting and clothing.
The sister, rooted in knits
Giada was especially enamored with knits. She recounts some of her earliest memories of sewing machines and knitting scarves for her dolls. So true was her passion that she headed to England to study knitwear design at Nottingham Trent University, despite speaking limited English. Her time at university further fueled her passion for textiles and their technical processes. After receiving her degree, she went off to Paris and Italy working as a designer for brands the likes of Kenzo and Benetton.
The brother, the business branch
Although Paolo was not as focused on the creative side, his passion for clothing and fashion was as firmly planted as Giada's. After studying economics, he brought his business acumen back to the family knitwear business to collaborate with luxury brands to great success in the London and New York fashion worlds.
Humble beginnings
In the early nineties, an unspoken change happened. Giada, in need of a break from the pressure and judgement of the big fashion houses, took a sabbatical and returned home to revitalize herself. Paolo, having finished his latest project in New York, was also coming home. For the first time in years, the siblings found themselves united again in their family home in Veneto.
It started as an instinct, as if being home brought back a childlike desire to create. They both felt it, a need to make something personal and special. They hand embroidered shirts and created dresses from local materials, working out of their mom's kitchen while she hung their designs in the garden to dry. The siblings drove around the country, selling their clothing to boutiques. Everything they made was pure and sincere, a true reflection of their personalities and the passion that they put into every design. These first few years solidified the mood and spirit of their label that is still evident to this day.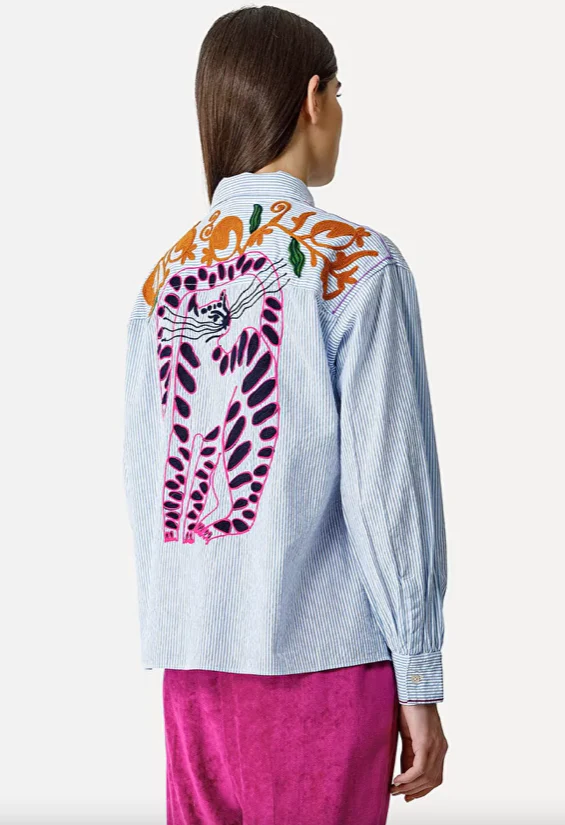 Forte Forte Jaguar De Lua Striped Poplin Shirt, Color Cielo
Forte Forte, the fashion house
Since 2002, Forte Forte has blossomed into the renown fashion house that it is today, but the creative process has not changed. Every piece starts with the materials they use. From there, they design through feeling and instinct. It's what drives people to Forte Forte. Self-described as "emotional clothing, handcrafted beauty," the Forte siblings have managed to create a feeling of intimacy with their pieces that is not found elsewhere.
In their own words, "forte_forte is a hub of sensations and emotions permeated by a sense of timeless classicism. it keeps evolving, staying true to the spirit of the beginnings."
For more information on available products, sizes and accessories, or if you need help, please visit our boutique or contact us through our website. At The Posh Peacock we strive to provide the best customer experience, so let us know if there is another size or color you are looking for so that we may improve our selection. Follow us on Instagram to receive more updates.